Rose tea is truly a lady's tea. Not only it has attractive colors, but also its health benefits to ladies. From Ming Dynasty(1368-1644) on, it has been widely used drank by the ladies for its many health benefits, namely calming down the unstable mood, soothing the women period pain, improving incretion imbalance, quickening the blood circulation and others.
This rose bud tea enjoys high, charming rose flower fragrance and taste. After several times brewing, the rose fragrance still fills around the whole house. It is very sweet, no bitterness at all. After a long/exhausted exercise, or heavy work, drinking this rose tea can relax you and regain energy fast.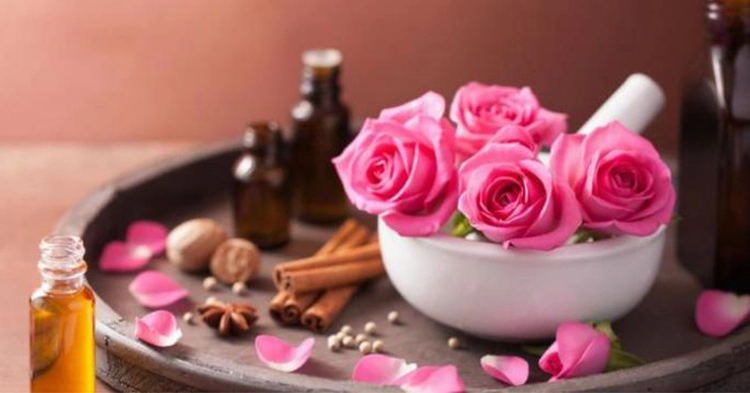 Product Type:

Baking Rose tea

Material:

Fresh Rose tea

Tea Type:

top grade Pink Rose Bud Dried Flower Tea Herbal Tea

Technics:

refine tea

Feature:

Anti-cancer and anti-oxidation

Aroma & Flavour:

clean aroma;tender light bright of tea soup;mellow and thick tasting

Color:

light red

Certificates:

ISO NOP Organic

SPecifications

Humidity ≤ 7.5%
Dissolvent ≥ 25%
Ash in total ≤ 5%
Ash (not be melted in acid) ≤ 1%
Cafein ≥ 1%
Tanin ≥ 8%
Iron impurities ≤ 0.001%
Broken ≤ 6%
Aflatoxin B1 ≤ 5 µg/kg

Taste

lasting aroma, fragrant taste and bright liquid

Ingredients

Polyphenols, amino acids,more caffeine, tea polysaccharides, vitamins, and so on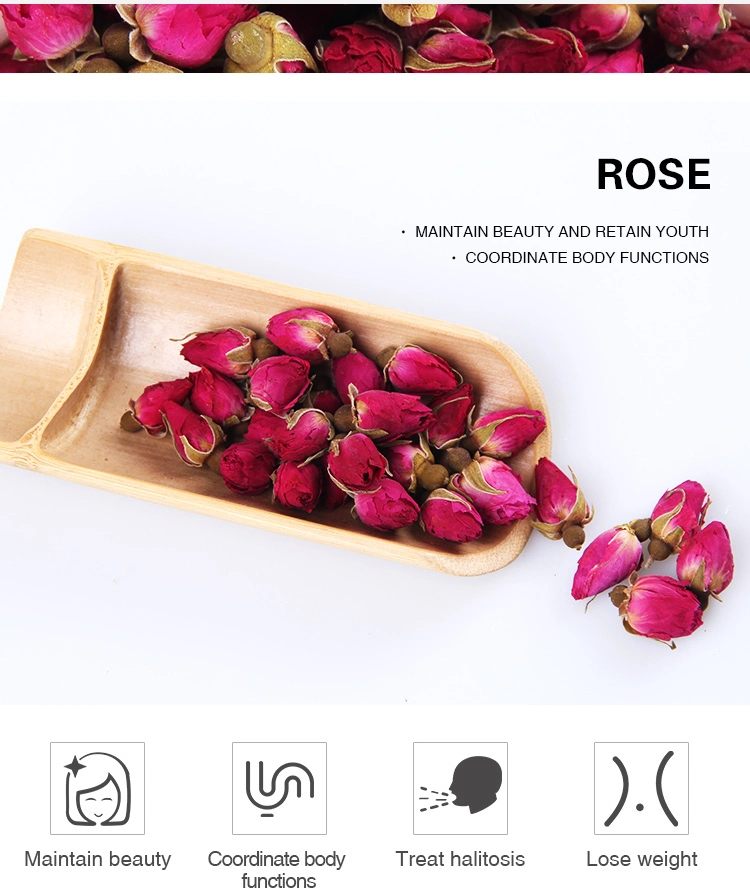 Advantage
1. MENS TRUAL PAIN
Rose tea has traditionally been drunk around the world to alleviate some of the symptoms of menstruation, in particular to ease painful cramping.
2. SKIN, ACNE AND HAIR BENEFITS
Rose petals are packed full of Vitamin C; indeed there are plenty of claims that one cup has the equivalent vitamin C content of 60 oranges.
3. IMMUNE SYSTEM BOOST
The very high vitamin C content of rose tea makes it a wonderful natural boost for your immunity system.
4. IMPROVES DIGESTION
Drinking teas made from rose hip and rose petals are known to improve digestion and keep your digestive system in peak working order. Rose tea can stimulate the body's production of bile which in turn helps our stomachs to digest food effectively.
5. STRESS AND ANXIETY
As well as its variety of physical health befits, rose tea can be used to calm the mind and elevate your mood. Stress, anxiety and depression are becoming ever more prevalent conditions in today's modern world.
6. URINARY TRACT (UTI)
If you are suffering from a painful infection of the urinary tract, drinking rose tea can help you to bring the infection under control and ease your painful symptoms.
7. CONSTIPATION
Rose tea has been traditionally used for a very long time to treat constipation. It has gentle laxative properties and is a good natural choice for those battling with constipation.
8. IT'S CAFFEINE-FREE
Since Rose Tea has no caffeine it's safe to drink at any time of the day. If you have steady doses of coffee and black tea during the day switching to non-caffeinated tea like Rose tea at night is a good idea.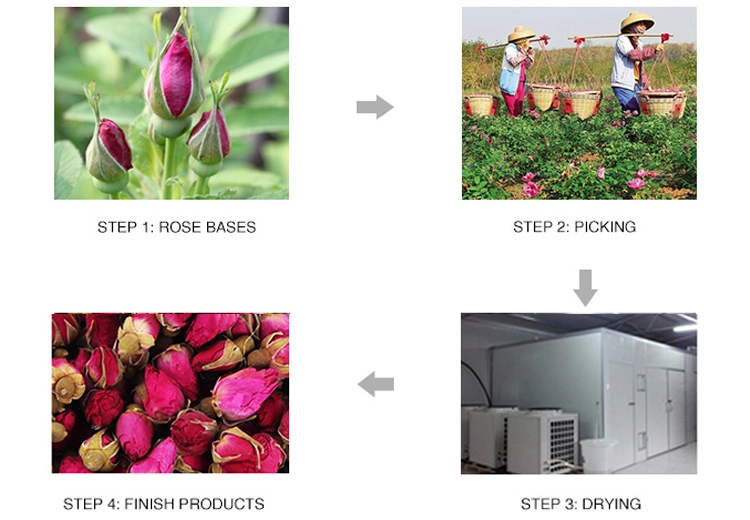 Our Services
Fast response after your inquiry

Small quantity & trial order support

Soon delivery after order

Many payment ways for choosing

Free sample,only freight cost on your side

Special QC team to control the quality during processing

Many items in one order is acceptable
Packaging & Shipping
Pack in PE bag , paper carton, weave bag or customer designated;
Quantity less than 100kg, 500g /PE bag, and 10 bags in one carton;
Quantity more than 100kg,10kg/weave bag,or 5kgs/paper carton;
Ship by Sea,Air, Land or courier,depend on quantity or your instruction.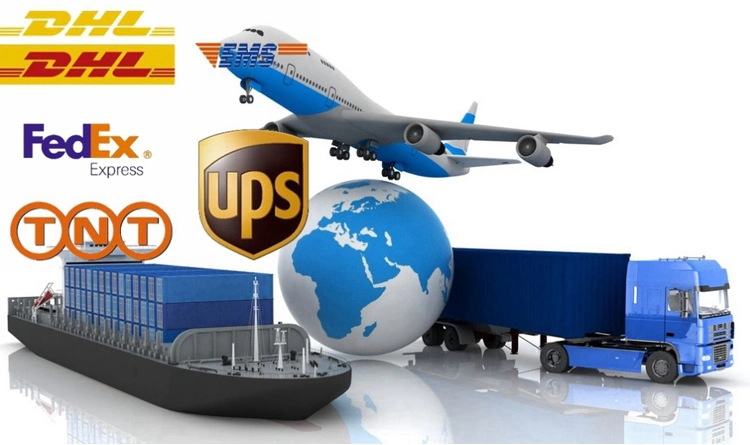 Our Company
Tianjin Eternal International Trading Company, are supplying chrysanthemum to the buyer all
around the world. Our chrysanthemum is the product in two districts, Changjiang distinct and
Huabei District, the best two place of China .our chrysanthemum is aromatic and health.
Tianjin Eternal International Trading Company has run the Chinese herbs .spices for more than 25
years, we export herbs and spices to USA, Taiwan, and Western Europe .we are trusted for all of
our buyer and we make business in the principle,win-win .we want to make business and make
friendshipe with the people who want to.