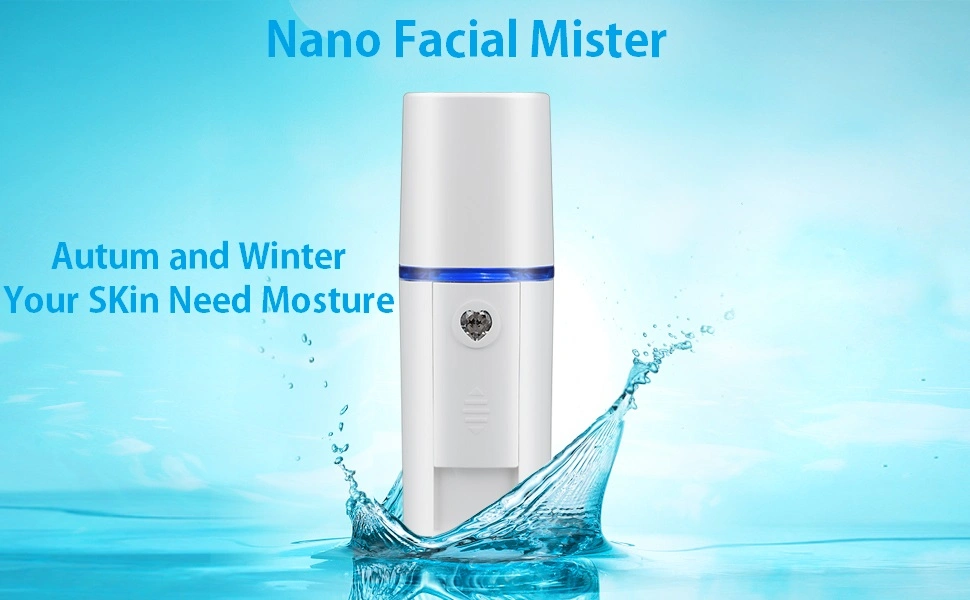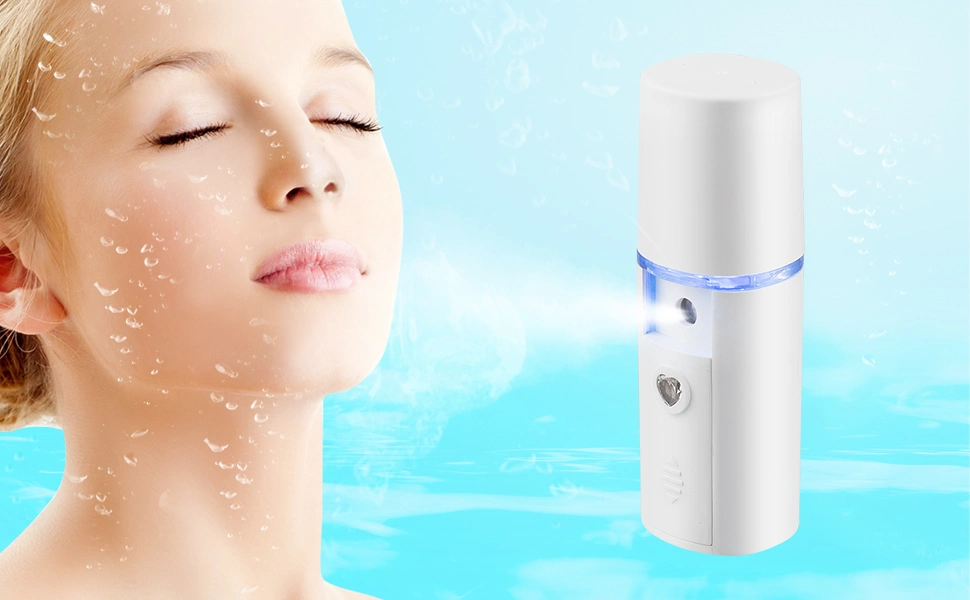 Aromatherapy Cold Mist Nano Facial Steamer Device

CE/ MSDS

Can be added

Mineral water, milk, skin toner

Moisturizing Hydrating,Calm makeup

Cold mist suitable for all kinds of skin

Perfect for use at Bedroom, Living Room, Car, Home and Office, outdoor travel.
1, 0.3um Fine Mist - Ultrasonic vibration technique decomposes the moisture to 0.3um. Much finer mist can be absorbed instantly, moisturizes your skin deeply, won't ruin your makeup, and helps the eyelash extension adhesive cure faster.

2, Portable and Unique Design - Designed as a mini size and a mirror on top in your handbag or pocket. Enjoy facial sauna no matter where you are, at office, on flights, outdoor, at dressing room and so on.
Moisturize and Refresh your Skin - Use on normal, oily, dry, combination and sensitive skin types, help skin recover to a tender younger and healthier condition

3, 20ml-large water tank - A tank of water can be used more than 7 times with large amount of mist, 3 Minutes each time , exactly enough for a day.Please note this facial mister is spray cool mist, not hot mist.

Function:
1, Moisturize and Refresh your Skin
Are you still looking for a High Quality and Delicate Handy Nano Mist Sprayer ?
Our this Nano facial mister adopted ultra high-speed vibration technology,split water into tiny nanometer particles to make the effective component penetrate into skin and deep hydrating without ruining makeup.
It is used for care of face, body, hair and other position. Suitable for all kinds of skin. Perfect for keeping your face hydrated and healthy.
Autumn and Winter, the Facial Mister make you feels relaxing and cool on a hot day, and helps the skin stay hydrated during the winter season.

2, Portable,Mini Design, Elegant Appearance,Rechargeable and Gift idea
MINI LOP Nano Mister with a mini size and USB rechargeable design which fits your handbag or pocket. Moisturize your skin anytime and anywhere. Enjoy the refreshing mist any time at office, on flights, outdoor, at dressing room and so on. Elegant design make the Sprayer great for personal use, or as a gift.

Use this Handy Nano Steamer to moisturize and refresh your face, your hair, your body-anywhere you want to fight static, reduce wrinkles, or relieve minor irritations,also help you set and refresh your make-up like cure eyelash extensions. It is the Best Gift for your Mother,your wife, Lover, girlfriend, female friends.

Note:

Don't use this mist sprayer as a normal sprayer bottle. This only can be sprayed with water or water mixed with Essential oils but need 9:1(watter: oil).
Don't add the flammable liquids like alcoholic, this will creat a potential danger if you don't clear well when charing
Don't use it if the water tank broken or device broken. This is avoid the water deep into the inside of the device.