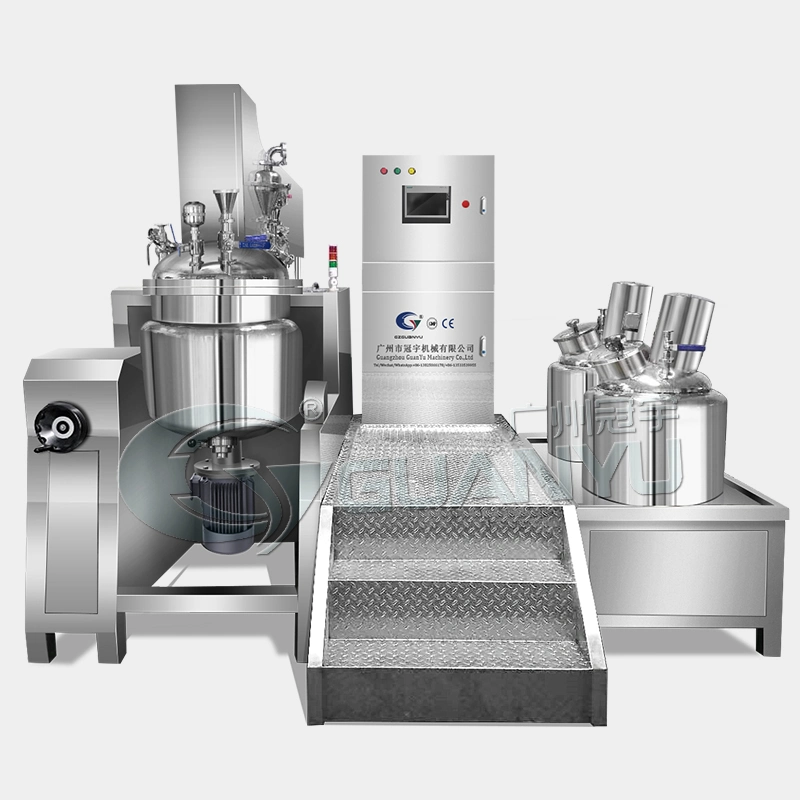 Stainless Steel Shea Butter Cream Emulsifier Mixing Machine Tank Homogenizer Mixer
1/.Vacuum emulsifying mixer tank machine is consist of vacuum emulsifying main tank, oil pot ,water pot, hydraulic lifting system (with or without),heating &cooling system,vacuuming system,PLc automatic control or manual button control system,etc.

2/.The scraper type agitator mixing adopts the frequency converter for speed adjustment , so that high quality products of different processes according to customer requirements.

3/.The diversified high-speed homogenizer can powerfully mix solid and liquid raw materials and can rapidly dissolve
many indissoluble materials such as AES , AESA , LSA , etc. during the liquid detergent production process so as to save energy consumption and shorten production period. High Shear Homogenizer adopts German Technology, 0~3500rpm variable speed, and maximum speed can reach to 4500 rpm,the shear degree is about 0.2~5um.

4/.The tank body is welded by imported three-layer stainless steel plate. The tank body and the pipes adopt mirror polishing or matte finish , which fully conforms to GMP requirements.

5/.According to customer requirement , the tank can heat and cool materials. The heating way including steam heating and electric heating. Easy to discharge , bottom direct discharge or by transfer pump.

6/.The emulsifying main tank ,it is vacuum design ,the maximum vacuum degree is -0.09Mpa.

7/.We can choose hydraulic lifting ,it is easy for cleaning. or if factory has limited space,we can advise to fixed type, the top
cover can not lifted,but there is pressure manhole,we can open it to check the tank inside .

8/.Oil pot and water pot as pre-heating and pre-mixing,it is necessary for batch production,it efficiently save the preparation
time.

9/.We can choose PLC automatic control system ,or manual button control box,it depends upon your demand.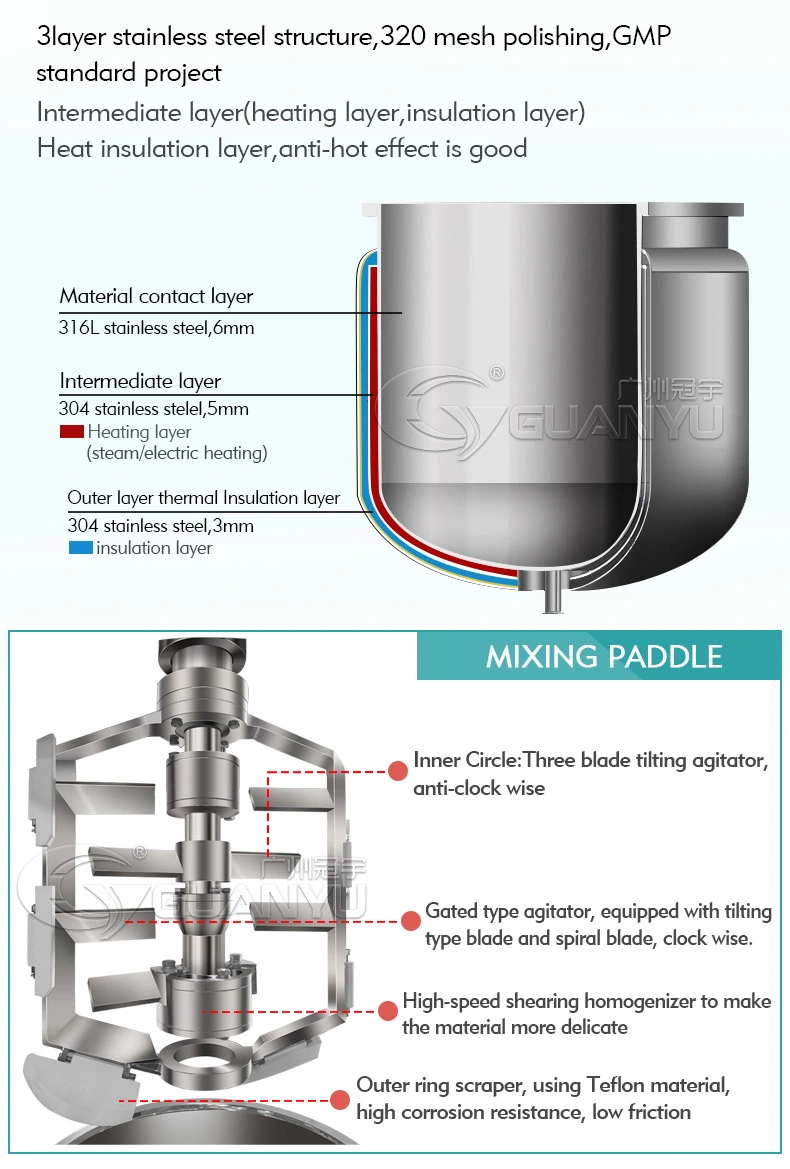 Homogenizing speed(r/min)

GYE-5

5

0.37

0~63

0.75

0~3500

Electric Heating

GYE-50

50

1.1

0~63

2.2

0~3500

Electric Heating

GYE-100

100

2.2

0~63

3~4

0~3500

Electric Heating

GYE-200

200

2.2

0~63

4~5.5

0~3500



Steam heating Or Electric heating

GYE-500

500

3.0

0~63

7.5

0~3500

GYE-1000

1000

4.0

0~63

11

0~3500

GYE-1500

1500

5.5

0~63

11-15

0~3500

GYE-2000

2000

7.5

0~63

15-18.5

0~3500

GYE-3000

3000

7.5-11

0~63

18.5-22

0~3500

GYE-5000

5000

11-15

0~63

18.5-22

0~3500