3T / h pure water treatment equipment with 100 barrels / hour 5 gallons filling production line
Description
RO water filter system can treat tap water, well water, brackish water and sea water. This water filter can be used for drinking water, bottled water and industrial. Water filter using the advanced skills of reverse osmosis to purifying water. The RO membrane of this water filter is USA Hydranautics, this is the best RO membrane brand.Well Underground Bore Brackish Salty RO Water Filter
Flow chart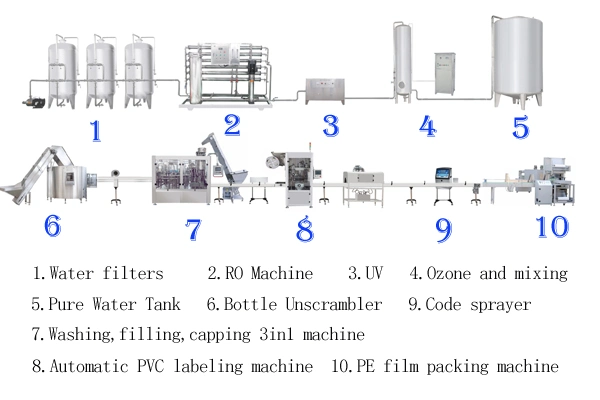 RO Water Treeatment System Function Item 1-5:
Silica Sand Filter:
It can remove the suspended solids and gluten particles in the water,thus reduce the turbidity of water.
Aactive Carbon Filter
It can remove the pigment,small and a large number of biology organisms in the water.
Sodium Ion Exchanger:
It can remove calcium and magnesium ions in the water, so as to soften the water.
Precision Filter:
It can ensure that the granularity of the water into reverse osmosis membrane is less than 0.1um.
Reverse Osmosis:
The Reverse Osmosis Device is an equipment to purify the water with the action of pressure difference of semi-permeable membrane.It is called reverse osmotic,as it is counter to natural penetration direction.Different materials have different osmotic pressures.
The reverse osmosis can remove more than 97% of the colloid,microorganism,particles and organic materials,becoming the best first-choice equipment in the engineering of modern purified water,highly purified water and space water (super-purified water).The most highlighted features are low energy consumption,no pollution,simple technique,high-quality water and convenient operation and maintenance.
UV Sterillze:
It uses the UV to kill some bacteria that may also pass through the reverse osmosis system.
Ozone sterillizer:
Some bacteria may not be killed by the UV,the sterillizer sues ozone to kill those bacteria.
Hollow-fibre Ultrafilter This ultrafilter adopts dissymmetriacal semipermeable film which is made from macromolecule material with special process.Th raw liquid flows under pressure,inside or lut side the film.THe macromolecule substance and colloid particles in the raw liquid are clogged at the film suface and are brought away by circulating raw liquid.Then the raw liquid becomes inpissated, furthermore,the subtance in liquid is seperated,concentrated.
According to customer's water source analysis report and the final water standard required,we will suggest customer to choose the suitable water treatment plants
RO-2000L/H Drinking Water Treatment Equipment Reverse Osmosis Water treatment system plant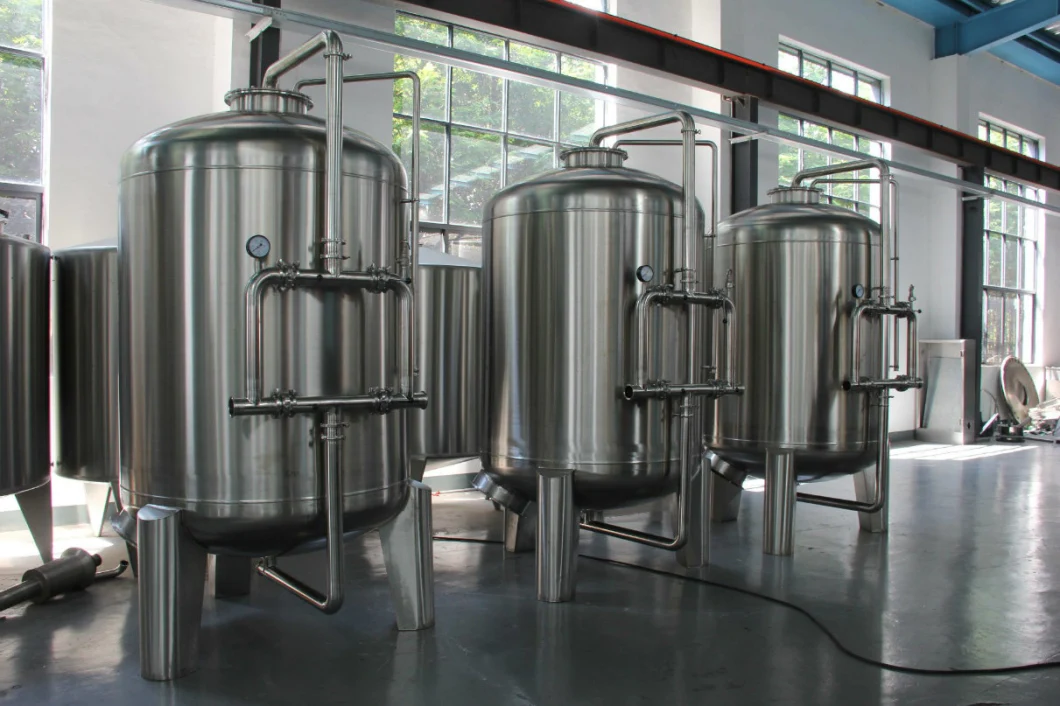 Introduction
RO water treatment, the raw water is tap water, first goes by pre-treatment, then by RO treatment. Through those treatments, can remove dissolving salt 99% and harmful materials, like particle, colloid, organic impurities, heavy metal ions, bacteria, viruses and heat source, etc. The system salt rejection rate gets 96-98%, outlet water conductivity gets ≤ 10μ S/cm² .
Process Of The Reverse Osmosis Pure Water Treatment Machine System :
Raw water+ raw water tank+ raw water pump+ sand filter + carbon filter+ water softener ( optional) + security filter +high pressure pump+ reverse osmosis+ pure water tank + UV sterilizer (ozone generation)+ precision filter + water supply points
Detailed specificationWater treatment system plant
1) Adopts imported RO membrane from America, which can remove 99.7% inorganic salt, heavy metal ion and completely get rid of colloid, microbiology organic materials, germ, protozoa, pathogens, bacteria, inorganic chemical and so on.
2) No need to add any chemicals, stable pure water quality, and no pollution drained, low produce cost.
3) Equipped with pretreatment system, such as active carbon absorption filter and PP sediment filter.
4) 304 stainless steel rack and pipe accessories connection.
5) Equipped with auto pressure protection system and on -line monitor.
6) Automatically and manually wash RO membrane. Also the design of washing the RO membrane is by chemical solution (citric acid or sodium hydroxide optional).Automatic water cleaning system for drinking RO-2000L/H Drinking Water Treatment Equipment Reverse Osmosis
7) The lifespan of the whole system is long, operation simple, the applicability is strong Well Underground Bore Brackish Salty RO Water Filter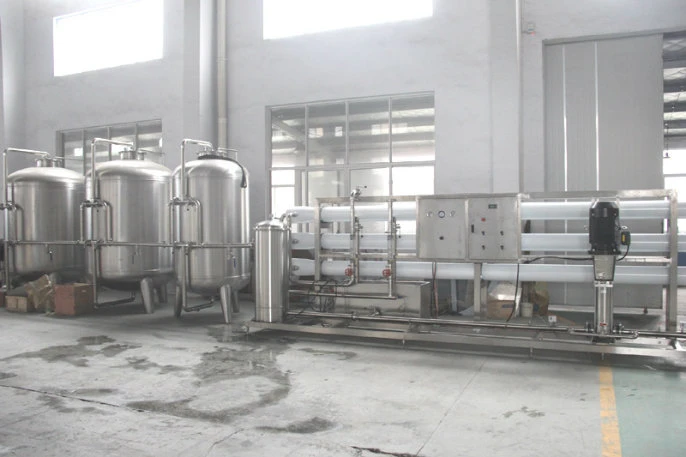 Advantages:
1. Manually wash RO membrane
2. Manually wash RO membrane with chemicals on machine
3. Machine automatically stops when high water level of purified water, and runs when low level
4. Multi-stage pumps protect the machine when lack of water
5. Protection in such cases as no power, lower pressure, higher pressure, shot circuit, creepage, etc.
Automatic water machine for purify system Industrial Water Purifier Reverse Osmosis
We are professional water treatment manufacturer located in China. Well Underground Bore Brackish Salty
RO Water Filter Reverse Osmosis Pure Water Treatment Machine System
Main Parameter
Model
RO-1000
RO-2000
RO-3000
RO-5000
RO-7000
RO-10000
Capacity(t/h)
1
2
3
5
7
10
Power(kw)
1.5
2.2
3
5.5
7.5
11
Desalt rate
99.9%
Rate of recovery
50%-60%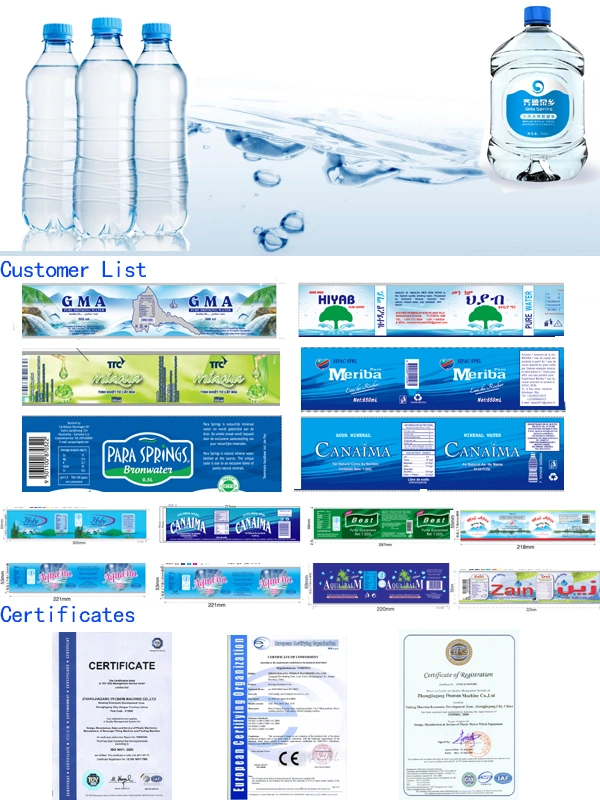 Our Service

Installation service
When you finish the Preparation conditions,our fast and professional aftersales service engineer team will go to your factory to install the machine,give you the operating manual,and train your employee until they can operate the machine well.

The sample service
1.We can send you the video of the running machine.
2.You are welcome to come to visit our factory,and see the machine running.

Customized service
1.We can design the machines according your requirements(materil,power,filling type,the kinds of the bottles,and so on),at the same time we will give you our professional suggestion,as you know,we have been in this industry for many years.

After-sales service
1.We will delivery the machine and provide the bill of load on time to make sure you can get the machine quickly
2.When you finish the Preparation conditions,our fast and professional aftersales service engineer team will go to your factory to install the machine,give you the operating manual,and train your employee until they can operate the machine well.
3. We often ask feedback and offer help to our customer whose machine have been used in their factory for some time.
4.We provide one year warranty
5.Well-trained & experienced staff are to answer all your inquiries in English and Chinese
6 .24 hours for engineer response (all services part 5days in customer hand by Intl' courier).
7 .12 Months guarantee and life-long technical support.
8.Your business relationship with us will be confidential to any third party.
9. Good after-sale service offered, please get back to us if you got any questions.

Quality Control
We have the single quality department,that make sure the material of the raw materials is good,and ensure the machine running smoothly.
If you want to know more information about the product,You can send an inquiry, we will solve any of your problems and send you running vedio.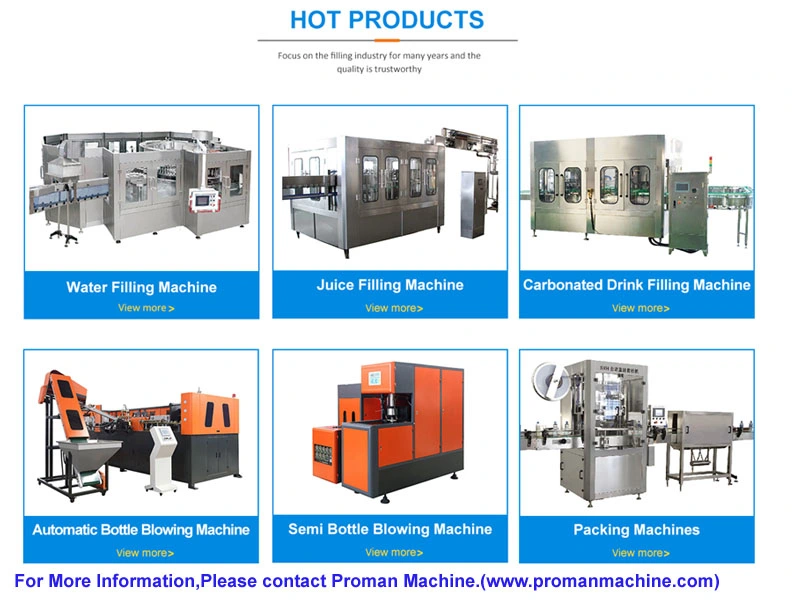 FAQ 1.How to tell us your enquiry?
You can contact us by email, phone call, fax, Instant Messenger (Trademanager, WhatsApp, Skype) and let us know your requirement.
2.Are you manufacturer or trading company ?
We are industrial manufacturer, which locates in Zhangjiagang city over 20 years .
3.Where is your factory?
Our Factory is located in Zhangjiagang City, it is very near to Shanghai and Wuxi (airplame and train both available). If you arrive at Shanghai or Wuxi, we can pick you up to visit our factory.
4. Do you have any technical supports with your Beverage Filling Machines?
Yes, We have a professional team of engineers who owned many installation, debug and training experiences abroad, are available to service machinery overseas.
We Warmly Welcome Customers All Over The World To Our Company.If You Have Interests In Our Products. Please Contact Us If You Have Any Problems.