Product parameters
Model: 6002A-2
Style: foldable
Wearing mode: headwear
Exhalation valve: None
Filter grade: FFP2, KN95
Color: gray, white
Activated carbon: Yes
Executive Standards: gb2626-2006, en149:2001
Certification: LA, National Industrial Production License, CE
Packing specification: 50 pieces / box, 600 pieces / box
Material composition:
The surface layer is 50g spunbond,
the second layer is 40g activated carbon cloth,
the third layer is 45g hot air cotton,
the fourth layer is 30g KN95 filter material(
melt-blown nonwovens
),
and the inner layer is 30g PP Spunbond

The filter material of the mask is N95, which can filter the dust invisible to the naked eye.
The efficiency of the mask to intercept and block non oil particles is more than 95%.
Scope of application: rubber, crystal, fur, synthetic metal casting, battery, synthetic chemical industry, building materials, nuclear industry, mine, petroleum, shipbuilding, metallurgy, environmental sanitation, coal mine, paint industry, automobile manufacturing industry, etc.
Strictly tested and certified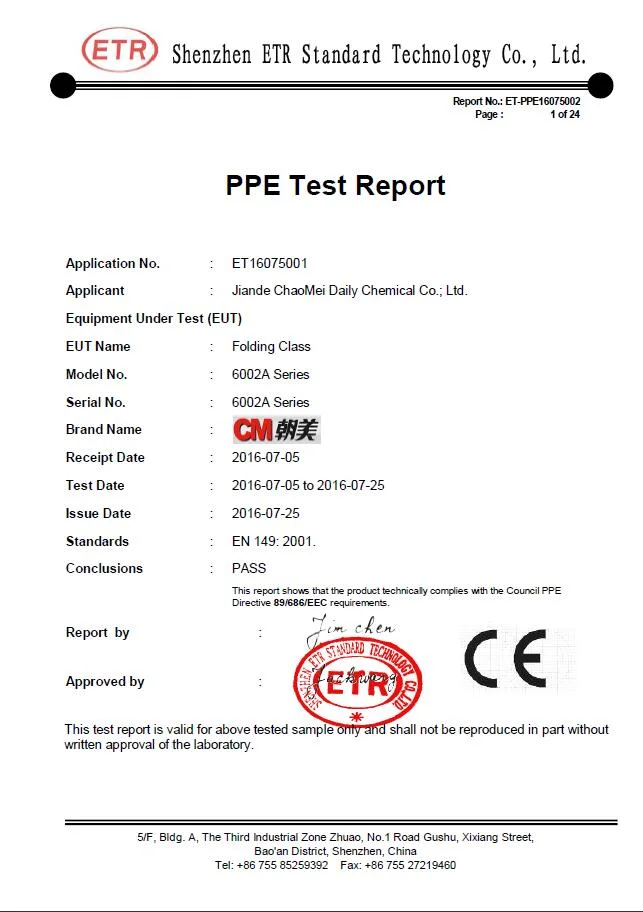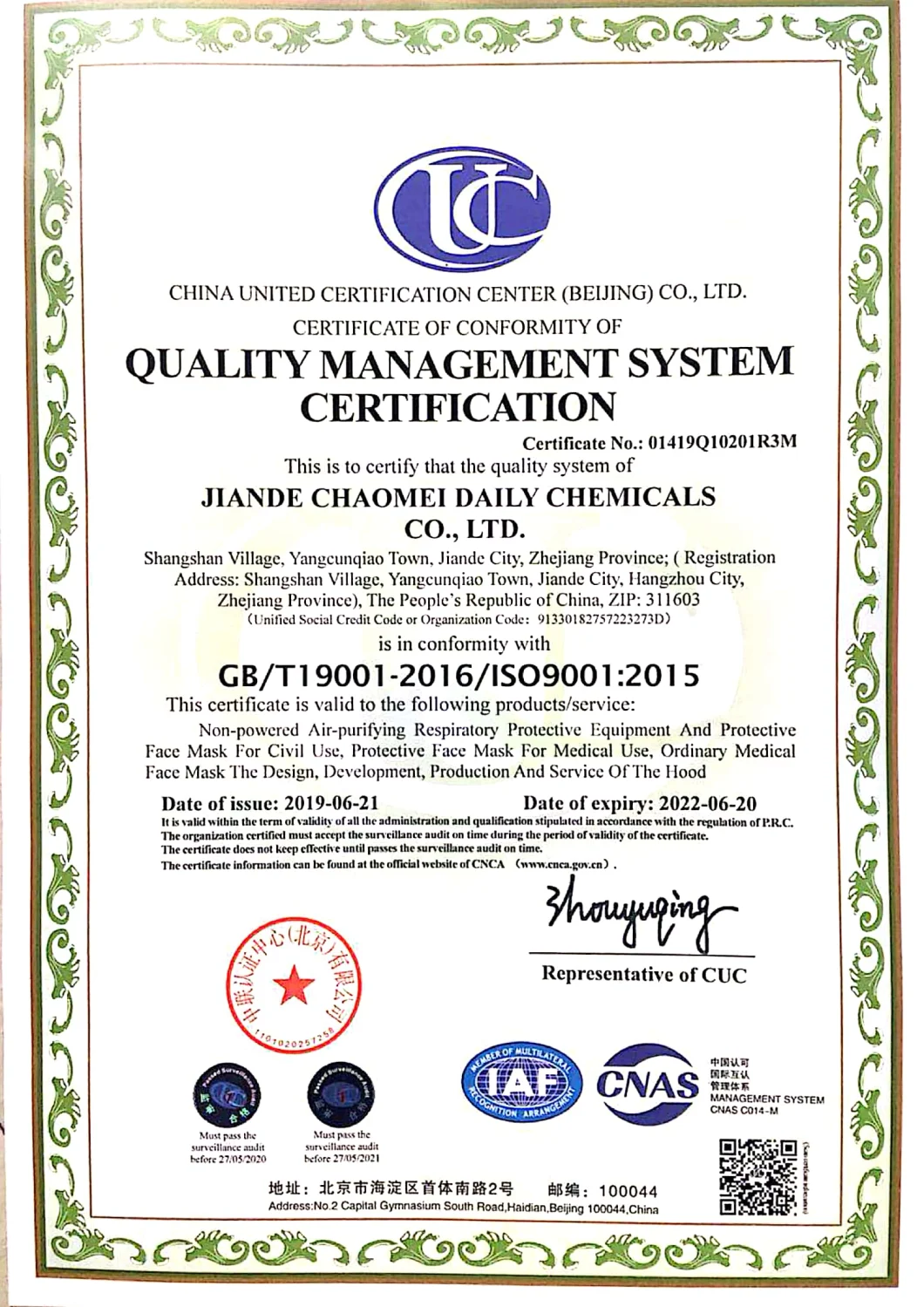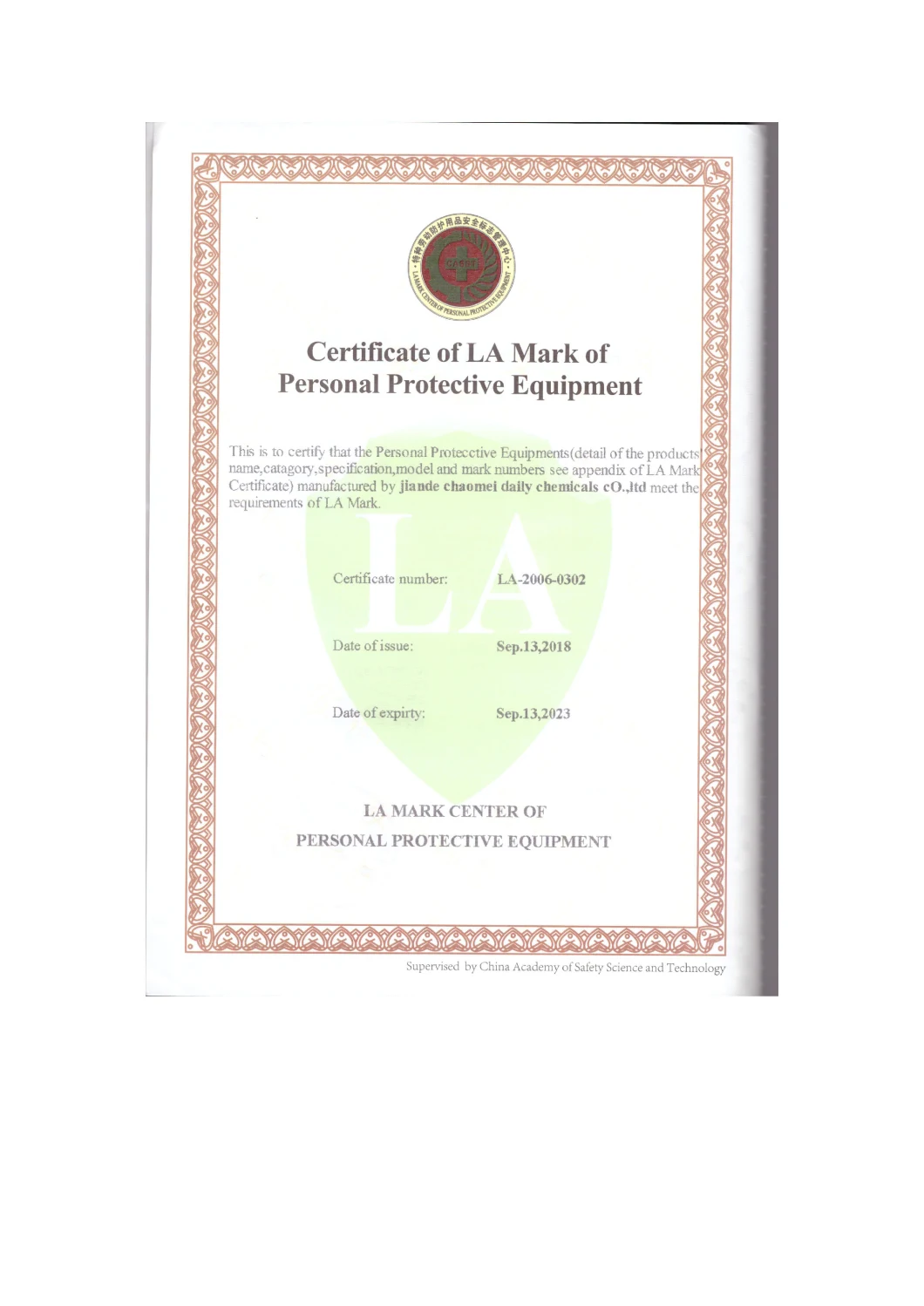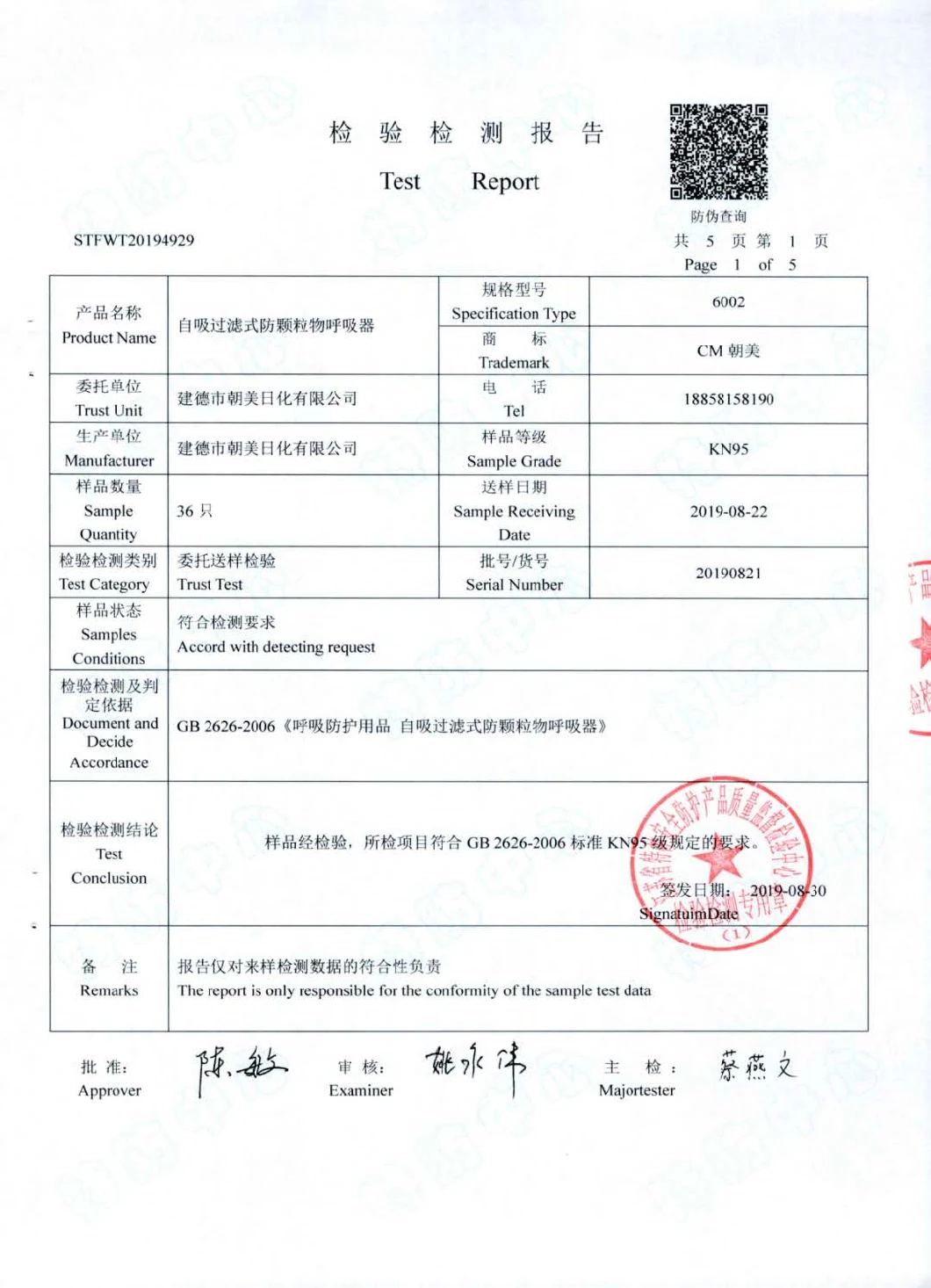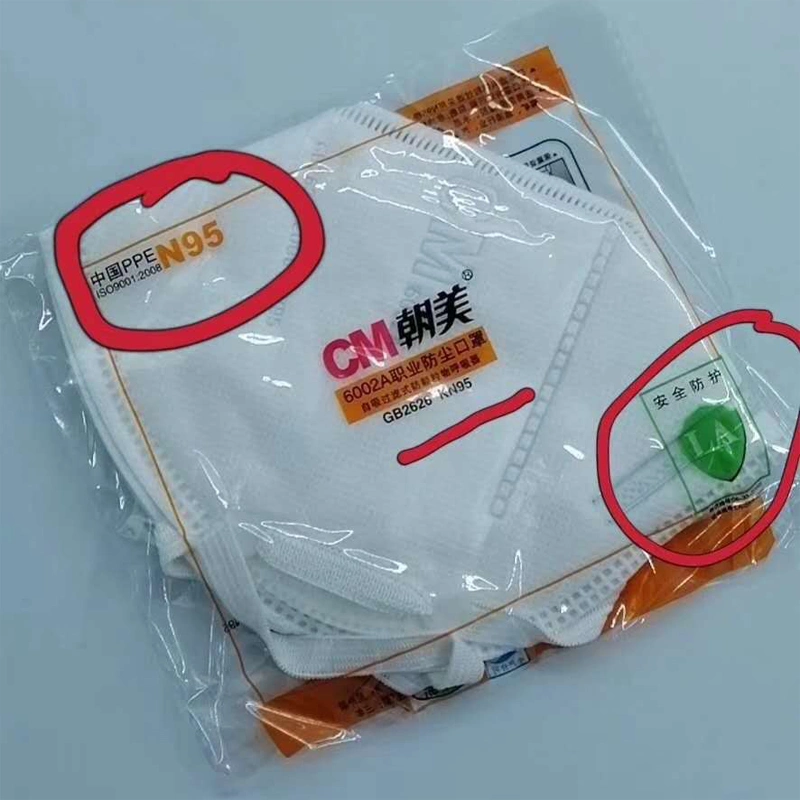 Five layer--multiple protection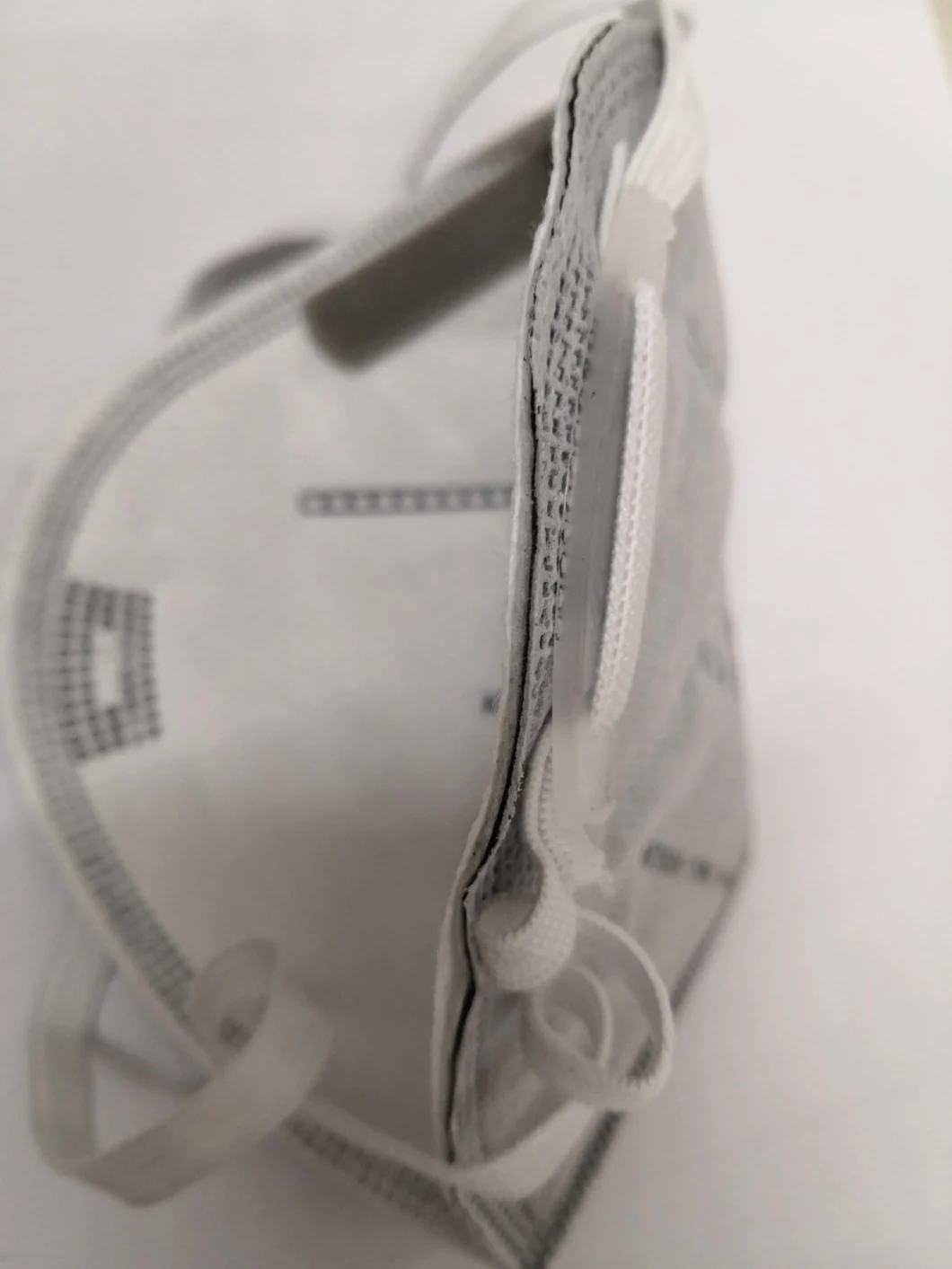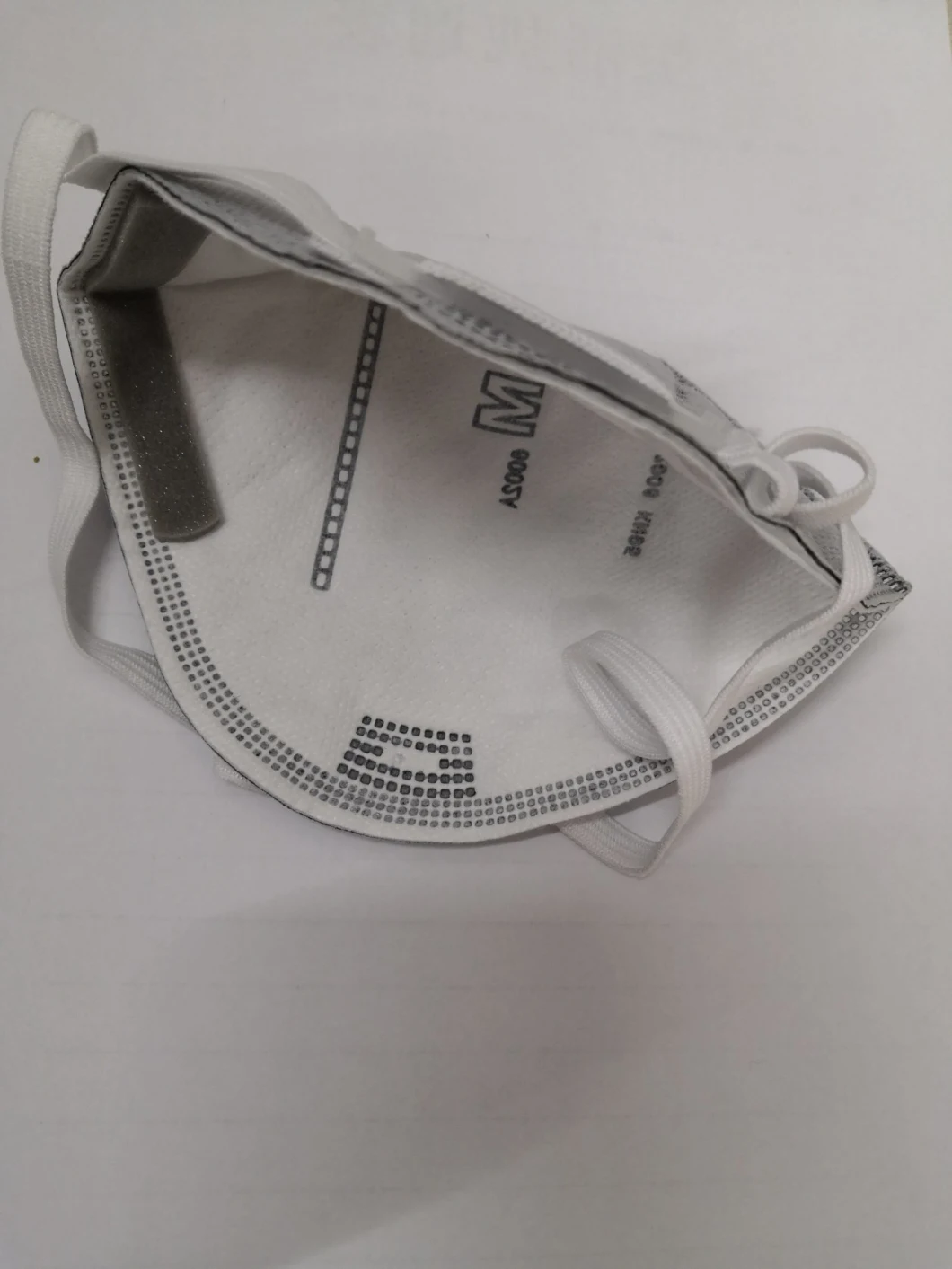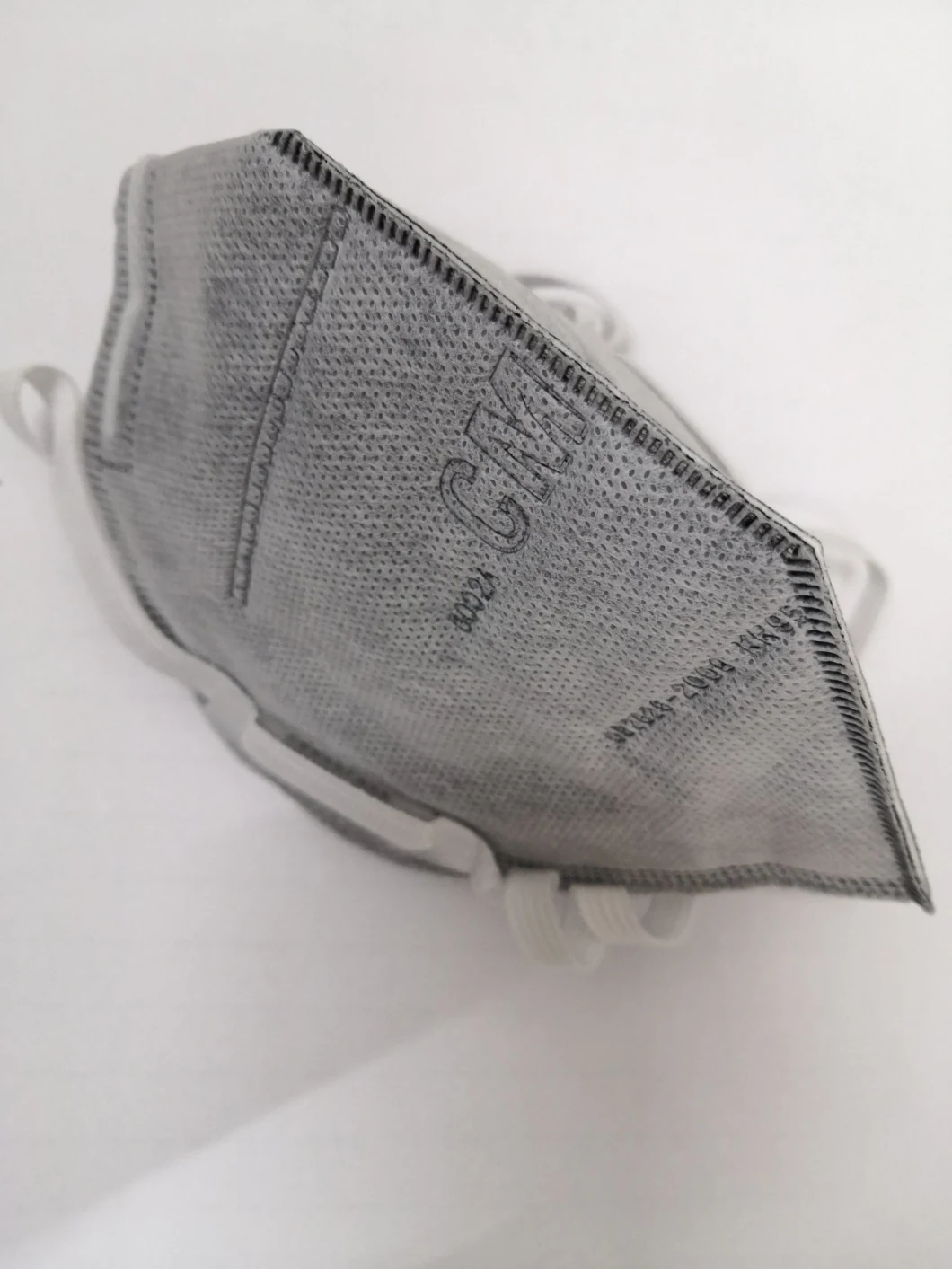 Large stock available: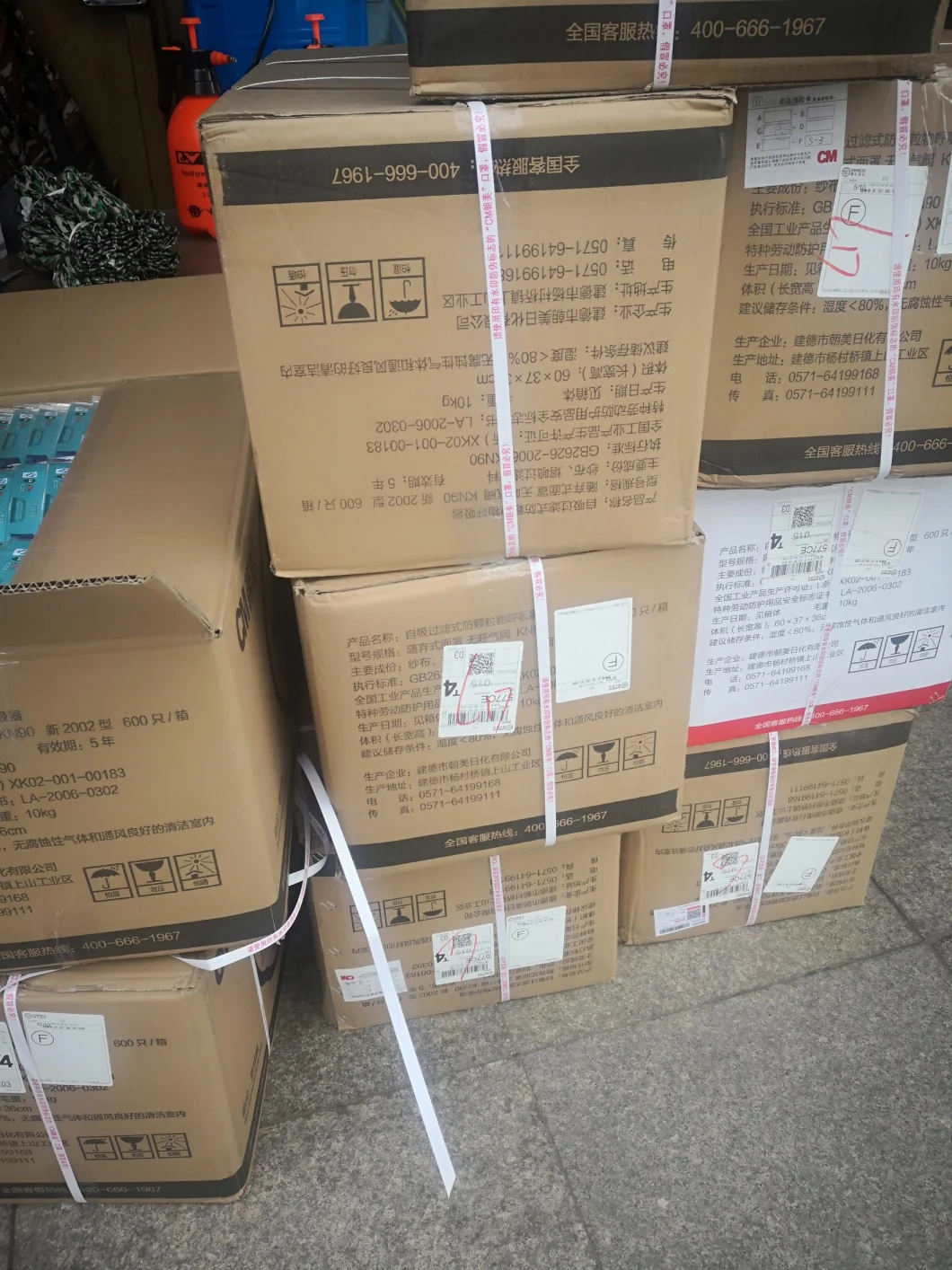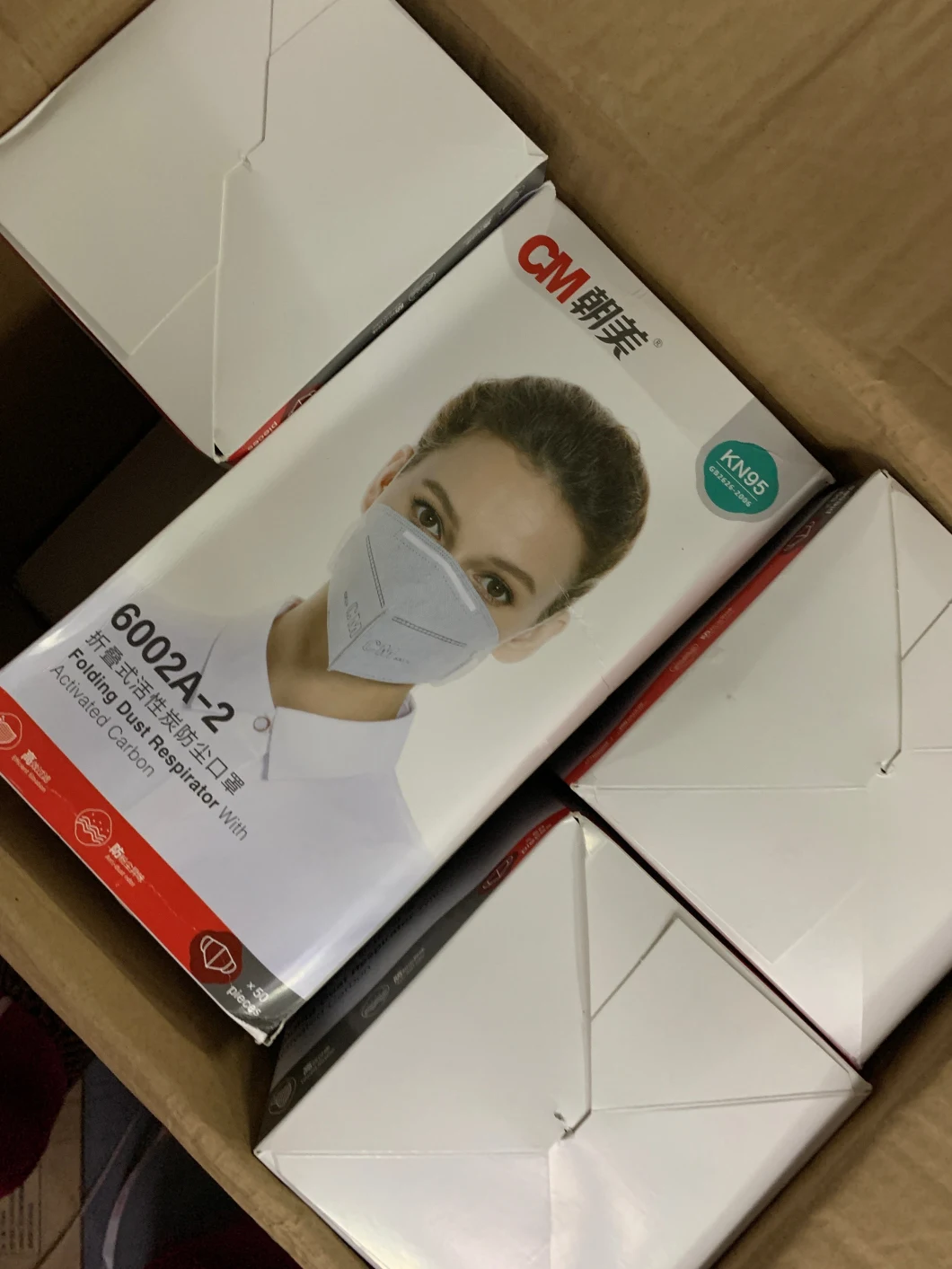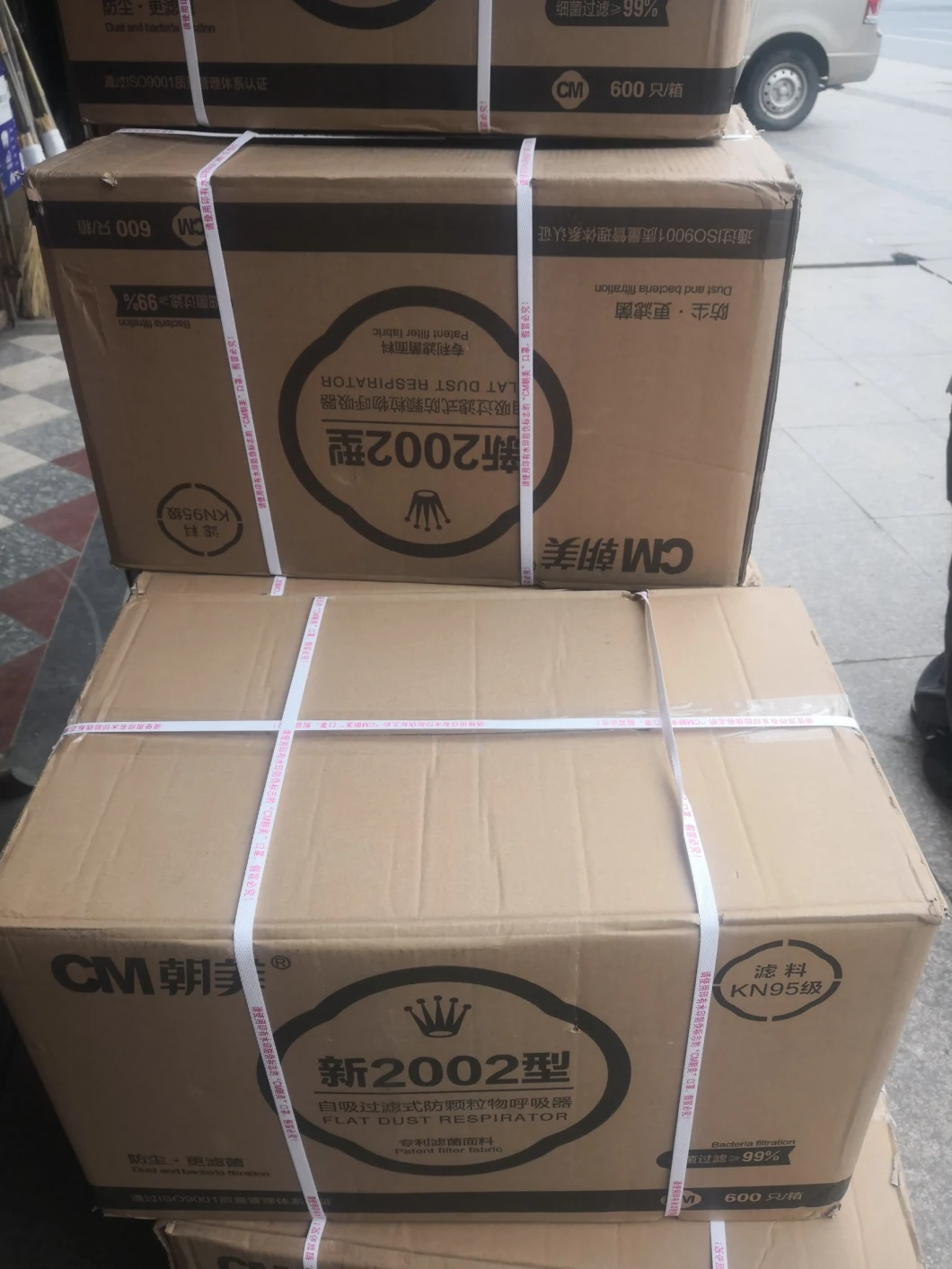 About the factory:
Jiande Chaomei Daily Chemical Co., Ltd. was founded in 1990, formerly known as Chaomei Industrial Company of Chinese Academy of Sciences. It is an advanced professional dust-proof Chinese PPE professional production mask enterprise with first-class scale in China. At present, the company's products mainly include: industrial occupational protective mask series, medical protective mask series, civil PM2.5 protective mask series and daily chemical washing products, etc., which have passed IS09001 Quality management system, ISO14000 environmental management system, ISO18000 safety and health management system, European ceen146:2001 industrial dust prevention and European ceen14683:2005 medical protection standards and system certification. The company has the national industrial product production license, safety mark of special labor protection articles, medical device production license and medical device product registration license. The civil protection products have passed the group standard "PM2.5 protective mask" taj1001-2015 and the national standard "daily protective mask" GB / t32610-2016 certification.
After development, the market share and influence of Chaomei brand are in the forefront of the domestic industry, and it is also recognized as one of the leading enterprises in the industry. The company has more than 800 employees and an annual production capacity of more than 400 million. At present, scientific and technological innovation talents account for more than 20% of the company. The company is equipped with first-class testing centers, R & D centers and e-commerce centers at home and abroad. It has developed and produced more than 100 types and specifications of products in two series of daily chemical washing and respiratory protection, and obtained 4 invention and 35 utility model patents to meet the needs of different groups. In addition to its high popularity and reputation, our company is also the first mask manufacturer with ethylene oxide sterilization equipment in Chin