BUBBLE CHARCOAL BLACK MASK
OXYGEN ASSISTS LIGHTEN WRINKLES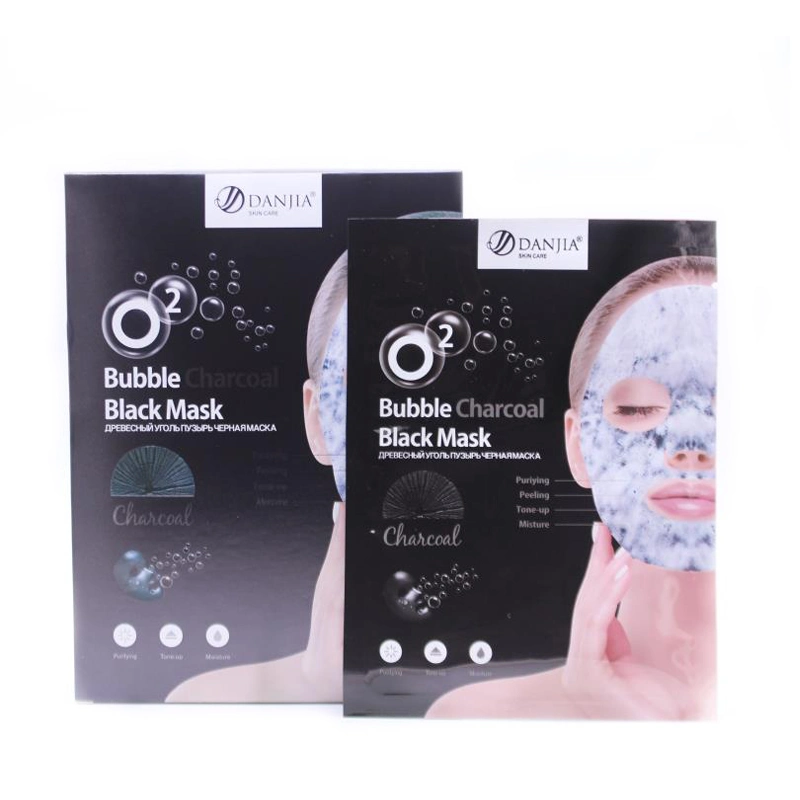 EFFICAY: Purify and moisturize your complexion in as lilltle as 10 minutes with Bubble Facial Mask, which remove out oil and dirt, allowing pores to tighten and giving a cleaner, move even skin tone, rich in natural bamboo charcoal that enhances circulation while gently exfoliating to remove dead cells and impurities, restores your youthful glow and radiance.
INGREDIENTS: WATER, GLYCERIN, PROPYLENE GLYCOL, HAMAMELIS VIRGINIANA (WITCH HAZEL) EXTRACT, TREHALOSE, DEXTRAN, METHYL PERFLUOROBUTYL ETHER C12-16 ALKYL GLUCOSIDE, ALLANTOIN, HYDROXYETHYLCELLULOSE,PANTHENOL, PHENOXYTHANOL,SODIUM HYALURONATE,CARBOMER, PARFUM, CHARCOAL EXTRACT.
HOW TO USE
1. Cleanse skin.
2. IMPORTANT: Rub sachet for few seconds to activate bubbles.
3. Tear open sachet. Remove mask from packaging. Unfold and place onto face.
4. Wear for 15-20 minutes. The mask will begin to bubble and foam.
5. Remove mask. Massage excess bubbles and foam into skin.
6. Rinse off with water.
CAUTION:(1). Avoid using on blemishes, pimples, irritation or sunburned skin (2). Stop using and ask a doctor if skin becomes reds, swollen , itchy during using or above symptoms persist after use (3). Keep out of eyes, if eye contact, rinse with water (4). Avoid using on skin which is sensitive to bandages or tapes (5) Avoid storing under direct sunlight or high&low temperature (6). Keep away from the reach of childen (7). For preventing dryness, use mask at once after opening pouch.

| | |
| --- | --- |
| Name | BUBBLE CHARCOAL BLACK MASK |
| Form | Sheet |
| Delivery time | 3 days in stock, 15-45 days for OEM |
| packing detail | 10pcs/box,72 boxes/CTN |
| Shipment | By express, air, sea |
| Payment | T/T, western union,30% before production, 70% before shipment. |

MÁSCARA NEGRA DE CARBÓN DE BURBUJAS
EL OXÍGENO AYUDA A ACLARAR LAS ARRUGAS
EFICAY: purifica e hidrata tu cutis en tan solo 10 minutos con mascarilla facial de burbujas, que elimina el aceite y la suciedad, permitiendo que los poros se aprieten y le dan un tono más limpio y uniforme, rico en carbón de bambú natural que mejora la circulación mientras Exfoliar suavemente para eliminar las células muertas y las impurezas, restaura el resplandor y el resplandor juvenil.
INGREDIENTES: AGUA, GLICERINA, PROPILENGLICOL, HAMAMELIS VIRGINIANA (AVELLANA) EXTRACTO, TREHALOSA, DEXTRAN, METILO PERFLUOROBUTILO ÉTER C12-16 ALQUIL GLUCÓSIDO, ALANTOIN, HIDROXIETILCELULOSA, PANTENOL, FENOXITHANOL, HIALURONATO DE SODIO, CARBOMER, PARFUM, EXTRACTO VOLCÁNICO.
CÓMO USAR
1. Limpie la piel.
2. importante: frote el sobre durante unos segundos para activar las burbujas.
3. rompa el sobre abierto. Quite la máscara del empaque. Desplegar y colocar en la cara.
4. usar durante 15-20 minutos. La mascarilla comenzará a burbujear y espuma
5. Quite la mascarilla. Masajea el exceso de burbujas y espuma en la piel.
6. Enjuague con agua.
PRECAUCIÓN:(1). Evite el uso de manchas, granos, irritación o piel quemada por el sol (2). Deje de usar y pregunte a un médico si la piel se vuelve roja, hinchada, con picazón durante el uso o por encima de los síntomas persiste después del uso (3). Mantener fuera de los ojos, si contacto con los ojos, enjuagar con agua (4). Evitar el uso en la piel que es sensible a los vendajes o cintas (5) evitar el almacenamiento bajo la luz solar directa o alta y baja temperatura (6).Manténgase alejado del alcance del niños (7). Para prevenir la sequedad, utilice la mascarilla inmediatamente después de abrir la bolsa