Product Description:
1. Surgical/Medical face masks with CE, ISO13485.
2. Material: Non woven.
3. Size: 17.5x9.5cm;16.5*9.5cm;17.5*9.0cm;18.0*9.0cm.
4. Layer: 3ply.
5. Style: Earloop or tie on.
6. Application: Used for hospital, clinic, house, food processing place and other working/living and studing place where has high request on environment.
7. Conform to EN14683: 2005 TYPE IIR and FDA510K(No.: K101000).
8. Resistance to penetration by synthetic blood-120mmHg.
9. Packing: 50pcs/box, 40boxes/ctn; 50pcs/bag, 40bags/ctn.
10. Sterile: Sterilized by ethylene oxide.
11. Distinguished with appearance: Sewing edge; Folded edge; Auto edge.
12. Bacterial filtration efficiency (BFE%) >99%.
13. Adaptable nose bar, fiberglass free, latex free.
14. MOQ: 100000PCS.
15. Payment Terms: T/T, L/C.
16. Delivery time: 15days.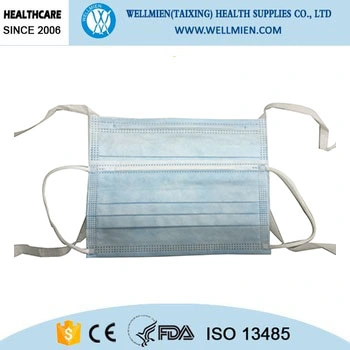 About Us:
Wellmien is a company specializing in the manufacture and trade of disposable medical products and personal protection equipments (PPT). Our company has implemented a strict quality management (QMS) and has passed ISO13485 certification. Our main products have passed CE Certification of European Union(EU) and FDA registration of USA. Wellmien surgical masks meet EN14683 standards of EU, and also have acquired FDA 510K approval of USA. With Superior products and services, our company had been winning the trust and support of new and old customers.